Morphs_Win10_19045.3271.22H2_Tweaked_Blu_FullApps_Office2021LTSC_Aug2023​
Portable Apps to be installed: 27 GB
These are installed/ extracted /started once the desktop loads.
***********************************************************************
Due to the amount of apps installed in this version, It would be best to disable win defender as soon as the desktop loads.
Use the 'Defender Control Portable' shortcut in 'Morph's_Desktop_Apps' folder on the desktop, you can always re enable it afterwards.
To do this:
1. open the app, click disable defender.
a messsage shows that you need to disable tamper protection, click yes and it will open the settings page and auto scrolls to the option
2. click the blue button to disable it
3. now go back to the Defender Control Portable app and click disable.
4. sorted, yay.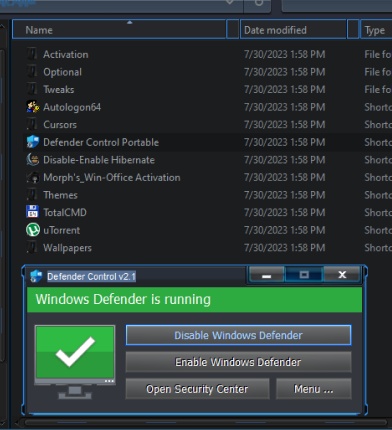 Once all the apps are extracted you more than welcome to re enable it however a lot of these apps may be removed due to the way they are or have been modified.
***********************************************************************
Based on
19045.3271.230720-0859.22H2_RELEASE_SVC_PROD3_CLIENTPRO_OEMRET_X64FRE_EN-US
Version/Build: 19045.3271
Architecture: x64 (64 Bit)
Size: 18.1 GB
Language: En_US
Author: Morph's Creations
Compression: Wim
Size of boot Wim: 515 MB
Size of install Wim: 4.12 GB
Installed size: 50 GB
*At least 16gb ram and 100 gb space (ssd/nvme recommended) due to the size of the portable apps extracted.*
Processor: 1GHz or faster CPU or System on a Chip (SoC) with two or more cores.
RAM: 4GB.
Hard drive: 64GB or larger.
Graphics: Compatible with DirectX 12 or later with WDDM 2.0 driver.
Display resolution: High definition (720p) display greater than 9″ diagonally, 8 bits per color channel.
Networking: internet connectivity.
Assembly features:
Integrated .Net Framework 3.5 (including 2.0).
UltraUXThemePatcher is available within the start menu in the 'Morph's_Apps' folder.
*** MS Store IS working***
*** Win updates are working***
Office version – Office_2016-21_C2R_ISO_16.0.14332.20542
If you'd like to install additional packages,
copy the Office2021_silent.exe file from the oem > filesU folder on the iso,
extract it and install as you would.
The office install .bat is pre configured to only install excel, outlook, powerpoint and word.
Which one do you get, that's up to you and your requirements..
If you want just a straight forward windows tweaked with a few apps, get the minimum one.
if you want a few more apps then get the medium one.
if you want the fully loaded apps then you wanting the full version.
All my version are tweaked with the same or similar tweaks depending on windows versions 10/11.
Keep in mind my recommendation for the full is:
at least 16gb ram, 100gb of space and either an ssd or nvme drive.
***Morphs 2023 Full Portable Apps Extraction***
*** Approx 285 Files to be extracted ***
** These shouldn't take longer than 3-5 min to extract ***
*** Space needed, approx 27 GB ***
All Portable Apps are extracted to 'c:\ProgramData\Morph's Apps\'
Some apps may report virii due to how they have been modified/repacked.
Apps updated as of 04 August 2023.
Apps post installed:
7z2301-x64.exe
7z2301-x64.exe
8GadgetPackSetup.msi
Ac3filter.exe
ChromeStandaloneSetup.exe
Desktop_Restore.msi
DirectX_Setup_silent.exe
fineprint.exe
iobit_unlocker.exe
K-Lite_Codec_Pack_Mega.exe
lightshot.exe
Microsoft.NET.Framework.exe
mpc-hc86.exe
OldCalcWin10.exe
OldNewExplorer_silent.exe
oo_browserprivacy_pro.exe
oo_diskimage_pro.exe
oo_safeerase_pro.exe
OpenVPN.exe
Shortcut_Manager.msi
startback_aio.exe
VisualCppRedist_AIO_x86_x64.exe
vlc-win64.exe
Winamp_Final.exe
windowsdesktop-runtime-6.0.20-win-x64.exe
windowsdesktop-runtime-6.0.20-win-x86.exe
windowsdesktop-runtime-7.0.9-win-x64.exe
windowsdesktop-runtime-7.0.9-win-x86.exe
winrarx64.exe
Spoiler: Cursors available
Addicted
ALIEN_DARK
ALIENWARE
Apocalypse
Blaze
Bouquet_Dark
Bouquet_Light
Breeze
Breeze_Snow
cakeOSDark
cakeOSLight
Darkcur
dreamlandGREEN
Evolution
EZMachine
Glass_Maxx
Gradient_Red
GradientBlue
LAUNCH
MB_Metal
Oxygen
pointblack
Poison
Re_Digitized
Revenge_Red
SHARP_Green
SHARP_Red
STARCRUISER
STEALTH
Spoiler: Silent extracted Portable Apps
4KStogramPortable.exe
4KTokkitPortable.exe
4KVideoDownloaderPlusPortable.exe
4KVideoDownloaderPortable.exe
4KYouTubetoMP3Portable.exe
7-ZipPortable.exe
AbelssoftWin10-11PrivacyFixPortable.exe
ActiveDiskImageProPortable.exe
AdobeAcrobatProPortable.exe
AdvancedSystemCarePortable.exe
AdvancedUninstallerPortable.exe
AIDA64ExtremeEditionPortable.exe
AIOBootNewGenPortable.exe
AiseesoftDataRecoveryPortable.exe
AiseesoftFoneLabPortable.exe
AiseesoftiPhoneUnlockerPortable.exe
AllDupPortable.exe
AndroidDataRecoveryPortable.exe
AntivirusRemovalToolPortable.exe
AnyBurnPortable.exe
AOMEIBackupperTechPlusPortable.exe
AOMEIFoneToolTechPortable.exe
AOMEIMyRecoverPortable.exe
AOMEIPartAssistPortable.exe
AshampooDriverUpdaterPortable.exe
AshampooUnInstallerPortable.exe
AshampooWinOptimizerPortable.exe
AuslogicsAntiMalwarePortable.exe
AuslogicsBoostSpeedPortable.exe
AuslogicsDiskDefragPortable.exe
AuslogicsDriverUpdaterPortable.exe
AuslogicsDuplicateFileFinderPortable.exe
AuslogicsFileRecoveryPortable.exe
AuslogicsRegistryCleanerPortable.exe
AuslogicsRegistryDefragPortable.exe
AuslogicsWindowsSlimmerPortable.exe
AutorunOrganizerPortable.exe
AutoRunsPortable.exe
BatchTextReplacerPortable.exe
BloatyNosyPortable.exe
BlueLifeHostsEditorPortable.exe
BraveBrowserPortable.exe
BulkImageDownloaderPortable.exe
BurnAwarePortable.exe
CCleanerPortable.exe
ChangeMACAddressPortable.exe
ChrisPCAnonymousProxyPortable.exe
ChrisPCRAMBoosterPortable.exe
ClassicVolumeControl.exe
CompleteInternetRepairPortable.exe
CoolmusterAndroidAssistantPortable.exe
CoolmusteriOSAssistantPortable.exe
CPUIDHWMonitorPortable.exe
CPU-ZPortable.exe
CrystalDiskPortable.exe
Cursors.exe
DAEMONToolsLite.exe
DAMNNFOViewerPortable.exe
DDUPortable.exe
DefenderControlPortable.exe
DefenderRemoverPortable.exe
DirectoryListerPortable.exe
Disable-EnableHibernate.exe
DiskBossUltimatePortable.exe
DiskDiggerPortable.exe
DiskTrixUltimateDefragPortable.exe
DnsAngelPortable.exe
DNS-LockPortable.exe
DriveLetterChangerPortable.exe
DriverEasyPortable.exe
DriverGeniusPlatinumPortable.exe
DriverReviverPortable.exe
DriverUpdaterPortable.exe
DriveSnapShotPortable.exe
DroidTransferPortable.exe
DuplicateCleanerPortable.exe
EaseUSDataRecoveryWizardPortable.exe
EassosDiskGeniusPortable.exe
EasyContextMenuPortable.exe
EasyServiceOptimizerPortable.exe
EasyUEFIEnterprisePortable.exe
EdgeBlockPortable.exe
EdgeRemover.exe
EmEditorPortable.exe
EverythingPortable.exe
ExtremePictureFinderPortable.exe
FanControlPortable.exe
FastCopyPortable.exe
FastStoneCapturePortable.exe
FileZillaPortable.exe
FindMACAddressPortable.exe
Folder2ListPortable.exe
FolderSizesPortable.exe
FoneLabAndroidPortable.exe
FoxitPDFEditorProPortable.exe
FreeFileSyncPortable.exe
FreemakeVideoConverterPortable.exe
GeekbenchPortable.exe
GeekUninstallerPortable.exe
GlaryDiskCleanerPortable.exe
GlaryMalwareHunterPortable.exe
GlarysoftDiskSpeedUpPortable.exe
GlarysoftFileRecoveryPortable.exe
GlaryUtilitiesPortable.exe
GoodSync2GoPortable.exe
GoodSyncPortable.exe
GoogleChromePortable.exe
GoogleCleanPortable.exe
GPU-ZPortable.exe
HardDiskSentinelPortable.exe
HardentoolsPortable.exe
HasleoDataRecoveryTechPortable.exe
HasleoDiskClonePortable.exe
HDCleanerPortable.exe
HetmanInternetSpyPortable.exe
HetmanPartitionRecoveryPortable.exe
HetmanUneraserPortable.exe
HiBitUninstallerPortable.exe
HiJackThisPortable.exe
HostsEditorPortable.exe
HWiNFOPortable.exe
HWMonitorPortable.exe
ImageResizerPortable.exe
ImageTunerPortable.exe
ImgdrivePortable.exe
IM-MagicPartitionResizerTechPortable.exe
InternetTestProPortable.exe
IObitDriverBoosterProPortable.exe
IObitMalwareFighterPortable.exe
IObitSmartDefragPortable.exe
IObitSoftwareUpdaterPortable.exe
IObitUninstallerPortable.exe
ISOWorkshopPortable.exe
LicenseCrawlerPortable.exe
MacriumReflectTechPortable.exe
MacroritDataWiperPortable.exe
MacroritDiskScannerPortable.exe
MacroritPartitionExpertPortable.exe
MacroritPartitionExtenderPortable.exe
MagicBrowserRecoveryPortable.exe
MagicFATRecoveryPortable.exe
MagicNTFSRecoveryPortable.exe
MagicOfficeRecoveryPortable.exe
MagicPartRecoveryPortable.exe
MagicPhotoRecoveryPortable.exe
MagicRAIDPortable.exe
MagicUneraserPortable.exe
MasterPackagerProPortable.exe
McAfeeStingerPortable.exe
MediaInfoPortable.exe
MicrosoftEdgeRemover.exe
MiniToolPartitionWizardPortable.exe
MiniToolPowerDataRecoveryPortable.exe
MorphsOldTools.exe
MozillaFirefoxPortable.exe
MPC-BEPortable.exe
MSMGToolKitPortable.exe
MyLanViewerPortable.exe
NetTrafficPortable.exe
NetworkProfileNameChanger.exe
NewFileTimePortable.exe
NirLauncherPackagePortable.exe
NIUBIPartitionEditorPortable.exe
Notepad++Portable.exe
NTLite.exe
OCCTPortable.exe
Office2013-2021C2RInstall.exe
Office2021_silent.exe
OfficeToolPortable.exe
OfficeUninstallPortable.exe
OneCommanderPortable.exe
OOAppBusterPortable.exe
OODefragPortable.exe
OODiskStatProPortable.exe
OOFileBackupPortable.exe
OOShutUpPortable.exe
OptimizerPortable.exe
PasscapeWirelessPasswordRecoveryPortable.exe
PassMarkPerformancePortable.exe
PasswordCrackerPortable.exe
PasswordTechPortable.exe
PCCleanerPortable.exe
PCHelpSoftDriverUpdaterPortable.exe
PerfectlyClearWorkbenchPortable.exe
PermissionsReporterPortable.exe
PhoneTransPortable.exe
PhotoSupremePortable.exe
PiriformUtilitiesPortable.exe
PortablesShortcuts.exe
PortScanStuffPortable.exe
PowerISOPortable.exe
PrivacyEraserPortable.exe
PrivaZerPortable.exe
ProcessExplorerPortable.exe
ProcessMonitorPortable.exe
PsiphonPortable.exe
QuickCPUPortable.exe
QuickTextPastePortable.exe
RadiantPhotoPortable.exe
RAMSaverProPortable.exe
R-DriveImageTechPortable.exe
RecuvaTechPortable.exe
RegOrganizerPortable.exe
RemoteProcessExplorerPortable.exe
RenameExpertPortable.exe
ReNamerProPortable.exe
ResourceTunerPortable.exe
RevoUninstallerPortable.exe
R-StudioPortable.exe
RufusPortable.exe
RunAsToolPortable.exe
R-WipeCleanPortable.exe
S.O.SSecuritySuitePortable.exe
ScanMyRegPortable.exe
ScreenHunterProPortable.exe
SecretDiskProPortable.exe
SecureEraserPortable.exe
ShowHiddenWindowsPortable.exe
SmartDriverManagerPortable.exe
SoftOrganizerPortable.exe
SophiAppPortable.exe
SpotifyPortable.exe
SSDBooster.NETPortable.exe
Stopupdates10Portable.exe
SUPERAntiSpywareProXPortable.exe
SysinternalsSuitePortable.exe
SystemNinjaPortable.exe
SystemTransparency.exe
SysToolsHardDriveDataRecoveryPortable.exe
TaskManagerPortable.exe
TeamViewerPortable.exe
TorBrowserPortable.exe
TotalCMD.exe
TotalUninstallerPortable.exe
TotalUninstallPortable.exe
TreeSizePortable.exe
TrojanRemoverPortable.exe
TweakNowWinSecretPlusPortable.exe
TweakPowerPortable.exe
Tweak-SSDv2.exe
UltraAdwareKillerPortable.exe
UltraISOPortable.exe
UltraUXThemePatcher.exe
UnHackMePortable.exe
UninstallToolPortable.exe
USBDeviceTreeViewerPortable.exe
W10PrivacyPortable.exe
W11ClassicMenuPortable.exe
WebBrowserPassViewPortable.exe
WhatsAppPortable.exe
WhyNotWin11Portable.exe
WiFiGuardPortable.exe
WiFiScannerPortable.exe
Win10AllSettingsPortable.exe
Win10TweakerPortable.exe
WinaeroTweakerPortable.exe
WindowManagerPortable.exe
Windows10DebloaterPortable.exe
Windows10ManagerPortable.exe
Windows11DebloaterPortable.exe
Windows11ManagerPortable.exe
WindowsFirewallControlPortable.exe
WindowsRepairToolboxPortable.exe
WindowsRepairUnlockedPortable.exe
WindowsSystemControlCenterPortable.exe
WindowsUpdateBlockerPortable.exe
WindowsUpdateMiniToolPortable.exe
WindowsUpdateResetToolPortable.exe
WinGames.exe
WinSetView_config.exe
WinSlapPortable.exe
WinSnapPortable.exe
WinToHDDTechnicianPortable.exe
WinTools.netPortable.exe
WinToUSBPortable.exe
WinUtilitiesPortable.exe
WipePortable.exe
WiseCare365Portable.exe
WiseDataRecoveryPortable.exe
WiseDiskCleanerPortable.exe
WiseDuplicateFinderPortable.exe
WiseFolderHiderPortable.exe
WiseMemoryOptimizerPortable.exe
WiseProgramUninstallerPortable.exe
WiseRegistryCleanerPortable.exe
XtraToolsProPortable.exe
XYplorerPortable.exe
YUMIPortable.exe
Zero-InstallPortable.exe
Spoiler: Removed
adamclient 'Active Directory Lightweight Directory Services (AD LDS)'
appv 'Application Virtualization (App-V)'
assembly.net '.NET assembly cache'
datacenterbridging 'Data Center Bridging (DCB)'
easeofaccessthemes 'Ease Of Access Themes'
embeddedexperience 'Device Lockdown (Embedded Experience)'
enterpriseclientsync 'Work Folders Client'
f46d4000-fd22-4db4-ac8e-4e1ddde828fe 'Add Folder Suggestions dialog'
hwsupport_internetprintingclient 'Internet Printing Client'
hypervguest 'Hyper-V Integration Services'
iis 'Internet Information Server (IIS)'
langamharic 'Amharic'
langarabic 'Arabic'
langbulgarian 'Bulgarian'
langchineses 'Chinese Simplified'
langchineset 'Chinese Traditional'
langcroatian 'Croatian'
langczech 'Czech'
langdanish 'Danish'
langdutch 'Dutch'
langenglishgb 'English (GB)'
langestonian 'Estonian'
langfinnish 'Finnish'
langfrench 'French'
langfrenchcanadian 'French (Canadian)'
langgerman 'German'
langgreek 'Greek'
langhebrew 'Hebrew'
langhungarian 'Hungarian'
langime 'Input Method Editor (IME)'
langimejp 'Japanese (IME)'
langimeko 'Korean (IME)'
langimetc 'Chinese Traditional (IME)'
langitalian 'Italian'
langjapanese 'Japanese'
langkorean 'Korean'
langlatvian 'Latvian'
langlithuanian 'Lithuanian'
langnorwegian 'Norwegian'
langpolish 'Polish'
langportuguesebr 'Portuguese (Brazilian)'
langportuguesept 'Portuguese'
langromanian 'Romanian'
langrussian 'Russian'
langserbian 'Serbian'
langslovak 'Slovak'
langslovenian 'Slovenian'
langspanish 'Spanish'
langswedish 'Swedish'
langtamil 'Tamil'
langthai 'Thai'
langturkish 'Turkish'
langukrainian 'Ukrainian'
lxss 'Windows Subsystem for Linux'
manifestbackup 'Manifest Backup (WinSxS\Backup)'
mediaplayer 'Windows Media Player'
mediaplayer32 'Windows Media Player – 32 bit'
mediaplayernetworksharing 'WMP Network Sharing Service'
mediaplayernetworksharing32 'WMP Network Sharing Service – 32 bit'
microsoft.549981c3f5f10 'Cortana'
microsoft.advertising.xaml 'Microsoft Advertising SDK for XAML'
microsoft.asynctextservice 'AsyncTextService'
microsoft.bingweather 'MSN Weather'
microsoft.bioenrollment 'Windows Hello Setup'
microsoft.ecapp 'Eye Control'
microsoft.gethelp 'Get Help'
microsoft.getstarted 'Tips (Get Started)'
microsoft.microsoft3dviewer '3D Viewer'
microsoft.microsoftedge 'Microsoft Edge (Legacy)'
microsoft.microsoftedgedevtoolsclient 'Microsoft Edge DevTools Client'
microsoft.microsoftofficehub 'Office'
microsoft.microsoftsolitairecollection 'Microsoft Solitaire Collection'
microsoft.microsoftstickynotes 'Microsoft Sticky Notes'
microsoft.mixedreality.portal 'Mixed Reality Portal'
microsoft.mspaint 'Paint 3D'
microsoft.office.onenote 'OneNote'
microsoft.people 'Microsoft People'
microsoft.screensketch 'Snip & Sketch'
microsoft.services.store.engagement 'Microsoft Engagement Framework'
microsoft.skypeapp 'Skype'
microsoft.win32webviewhost 'Desktop App Web Viewer'
microsoft.windows.assignedaccesslockapp 'Assigned Access Lock app'
microsoft.windows.callingshellapp 'Call'
microsoft.windows.capturepicker 'Capture Picker'
microsoft.windows.contentdeliverymanager 'Content Delivery Manager'
microsoft.windows.narratorquickstart 'Narrator'
microsoft.windows.parentalcontrols 'Microsoft family features'
microsoft.windows.peopleexperiencehost 'Windows Shell Experience'
microsoft.windows.photos 'Microsoft Photos'
microsoft.windows.secureassessmentbrowser 'Take a Test'
microsoft.windowsalarms 'Windows Alarms & Clock'
microsoft.windowscommunicationsapps 'Mail and Calendar'
microsoft.windowsfeedbackhub 'Feedback Hub'
microsoft.windowsmaps 'Windows Maps'
microsoft.windowssoundrecorder 'Windows Voice Recorder'
microsoft.xbox.tcui 'Xbox TCUI'
microsoft.xboxapp 'Xbox'
microsoft.xboxgamecallableui 'Xbox Game UI'
microsoft.xboxgameoverlay 'Xbox Game Bar Plugin'
microsoft.xboxgamingoverlay 'Xbox Game Bar'
microsoft.xboxspeechtotextoverlay 'Xbox Game Speech Window'
microsoft.yourphone 'Your Phone'
microsoft.zunemusic 'Groove Music'
microsoft.zunevideo 'Movies & TV'
mobilepc_location 'Location notifications'
multipointconnector 'MultiPoint Connector'
remoteassistance 'Remote Assistance'
rotationmanager 'Auto-Rotation Manager'
sharemediacpl 'Share Media Control Panel'
simpletcp 'Simple TCP/IP services'
smbdirect 'SMB Direct (RDMA)'
tabletpc 'Tablet PC'
telnetclient 'Telnet Client'
textprediction 'Text prediction'
tftpclient 'TFTP client'
uev 'User Experience Virtualization (UE-V)'
windows.cbspreview 'Windows Barcode Preview'
windowstogo 'Windows To Go'
winocr 'Windows TIFF IFilter (OCR)'
winsat 'Windows System Assessment Tool (WinSAT)'
xbox 'Xbox – Core'
Spoiler: Screens