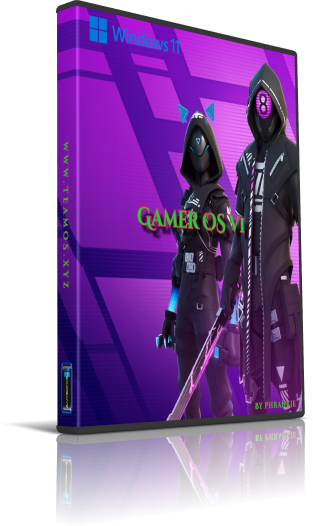 Author's Message
This build was made for gaming but I keep and integrated printing services/functions, all languages, all keyboards and support for font
also you can use other functions like remote desktop, troubleshooting, and etc. I only removed windows update, cleanup the winsxs folder,
means you can't add other features. Tell me on comment section what features do you need or what do you want me to change thanks.
What's Special?
3 GB installed size
Preactivated With Digital License
40 Gamer Wallpapers Added Each Theme
4 Custom Themes Added In Extras Folder
.Net Framework 3.5 Integrated
.Net Framework 4.8 Integrated
Direct Play Integrated
Legacy Components Integrated
Printing Features Integrated
Full Support For Languages
Full Support For Keyboards
Support For Fonts
Compact Compressed with LZX Compression
Custom Power Plan Applied To Boost Performance
Low Processess Tweaks Applied UpTo 128gb Of RAM
Bypassed Windows 11 System Requirements
Bypassed Force Microsoft Account Creation
General Info
Edition: 22621.2134
Version : 22H2
Arch : x64amd
Lang : en-US
Author: Phrankie11
Compression: ESD
ISO Size: 2.12 GB
Installed Size: 3 GB
System Requirements
Operating System: Windows XP/Vista/7/8/8.1/10
RAM: 2GB or Higher
Hard Disk: Atleast 6gb or Higher
Processor: 2-4 gigahertz (GHz) or faster with 2 cores or more cores on a compatible 64-bit processor
Installation Method
Ventoy Method
Rufus Method
Build Notes
Removed
Edge
WinRe
OneDrive
Windows Update
WinSxS Folder
All Windows Apps Bloatware Except Notepad And Windows Photos
Screenshots